Household Hazardous Waste, E-cycling, Document Shredding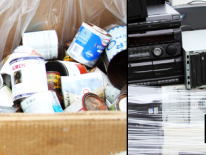 Disposing of household hazardous waste and unwanted electronic equipment as well as personal document shredding is easy at the Fort Totten Transfer Station the first Saturday of the month between 8 am and 3 pm, except holidays. An additional Household Hazardous Waste/E-Cycling drop-off occurs the Thursday preceding the first Saturday of the month (except holidays), between 1 pm and 5 pm. at the Ft. Totten Transfer Station, 4900 John F. McCormack Drive, NE. No documents will be accepted for shredding except on the first Saturday of the month because DPW cannot secure these documents until the shredding contractor is in place.
HHW should not be put in trash or recycling containers for DPW to collect, nor should they be included with items for bulk trash collection. Help protect DPW employees from being harmed by these potentially toxic items by disposing of them properly.
This section includes the following topics:
Office Hours:
Monday to Friday 8:15 am - 4:45 pm