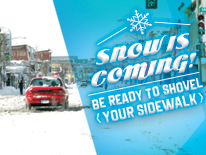 Are you elderly or disabled and need help shoveling? Call 311 (@311DCgov) for help from the Resident Snow Team.
Si usted es una persona de la tercera edad y necesita ayuda removiendo nieve, por favor llame al 311 (@311DCgov).
All residential and commercial property owners must remove snow/ice from the sidewalks around their property within the first eight hours of daylight after the storm ends. You may be exempt from sidewalk shoveling enforcement if you live in your own home and are 65 years old or a person with a disability. To apply for your exemption go to Sidewalk Shoveling Exemption Form.