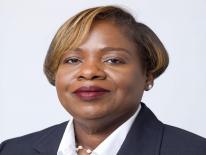 Mayor Muriel Bowser appointed Christine V. Davis as Interim Director of the Department of Public Works (DPW), January 28, 2021, when she elevated Christopher Geldart to Acting Deputy Mayor for Public Safety and Justice. Director Davis's appointment became effective February 1, 2021.
Director Davis is well-known within the DPW family after having served as the Department's General Counsel since June 2001. She has served four Directors during her 20-year tenure, advising them on equal employment opportunity, personnel issues, labor laws, policy, legislation, ethics, Freedom of Information Act requests and administrative adjudication, among other matters. Her superior legal skills led the Office of the Attorney General to designate her as a Senior Hearing Officer to hear its more complex matters and facilitate training for new attorneys.
Director Davis has been an integral part of DPW's management team. She helped DPW move multiple initiatives forward, including, revamping the abandoned and junk vehicle removal process, establishing the Grounds Maintenance Unit, which is charged with mowing and maintenance of the District's public spaces, and upgrading the District-owned fueling stations.
Ms. Davis began her career with the District in 1998 as a prosecutor in the Criminal Division of the then Office of the Corporation Counsel, where she became the District's first full-time Community Prosecutor. She led a group of attorneys assigned as community prosecutors to support the Mayor's Office of Neighborhood Services. Prior to joining DPW, Director Davis served as the Deputy Director of Neighborhood Services where she oversaw Neighborhood Service Coordinators implementing collaborative solutions to long-standing problems throughout the District.
Director Davis is a native Washingtonian. She received her undergraduate degree from the University of Virginia and her Juris Doctor from Howard University School of Law. She is a proud Cavalier and Bison.
Ms. Davis lives in Ward 7 with her teenage son, Benjamin.