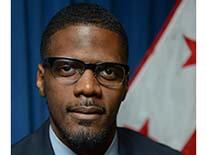 Christopher Shorter was appointed Director of the DC Department of Public Works (DPW) on September 29, 2015 by Mayor Muriel Bowser. DPW provides municipal services in two distinct program areas: environmental services/solid waste management and parking enforcement. Both contribute to making District streets and public spaces clean, safe, attractive and accessible. Director Shorter brings a wealth of leadership experience gained during his service in and outside of the District of Columbia.
Director Shorter previously served in the Bowser Administration as the Director of Agency Operations in the Office of the City Administrator where he provided direct oversight of the offices of Labor Relations and Collective Bargaining, Performance Management and Agency Operations.
Before joining the City Administrator's Office, Director Shorter served as the Chief Operating Officer for the District Department of Health (DOH). DOH is comprised of five core administrations that promote healthy lifestyles, prevent illness, protect the public from threats to their health, and provide equal access to quality healthcare services for District of Columbia residents. Director Shorter also has served as Deputy Director for the Special Education Transportation system within the Office of the State Superintendent of Education (OSSE-DOT). The agency supports learning opportunities by providing safe, on-time, and reliable transportation services for eligible students who attend District of Columbia public and public charter schools, as well as, non-public schools. Director Shorter provided strategic leadership to the Customer Service, Financial, Contract, Fleet Management and Internal Investigations divisions of OSSE-DOT. Director Shorter also served as the Chief Operating Officer with the District Department of Youth Rehabilitation Services. The Department of Youth Rehabilitation Services provides safe, stable and secure rehabilitative residential placement and community-based services to youth committed to the juvenile justice system by the Superior Court of the District of Columbia.
Outside of the District Government, Shorter worked within the Office of Organizational Effectiveness and Change Management for the Port Authority of New York and New Jersey as well as the Boys & Girls Clubs of Greater Washington. He received a Masters of Public Administration from the University of Pittsburgh's Graduate School of Public & International Affairs and a Bachelor of Science degree in economics from Florida Agricultural & Mechanical University in Tallahassee.