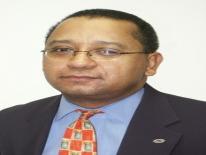 Michael "Mike" Carter's local government experience spans 30 years of executive, operational, and financial leadership roles. As the Interim DPW Director, since January 2022, and former Deputy Director of Operations, he works daily with the Solid Waste Management Administration, Fleet Management, Parking Enforcement and Office of Waste Diversion. Mike is a Board Member of the Greater Washington Region Clean Cities Coalition (GRWCCC).
Mike co-chaired the Public Works Subcommittee for the Presidential Inaugurations of George W. Bush, Barack H. Obama, and Joseph R. Biden. From 2014-2018, Mike served as the Chief Administrative Officer (CAO) in the City of New Haven, CT., managing major departments: Police, Fire/EMS Services, Emergency Management, Public Safety Communications (911), Engineering, Public Works, Parks/Recreation/Trees, Free Public Libraries, Human Resources (HR) and Benefits; and led the city's snow operations and emergency management programs.
Mike served as the Director of Procurement for the DC Water and Sewer Authority and the Chief Financial Officer (CFO) for the City of Indianapolis, Indiana Solid Waste Division. In Indianapolis, he managed the division's budgets and contracts, designed budget programs, processes, policies, and procedures, which reduced trash collection costs and generated savings through managed competition, resulting in cost savings of $15 million over a five-year period, as well as managed the resource recovery bond fund of $ 120 million dollars. Mike started his career as a policy analyst and Training and Organizational Development at AT&T/Bell Telephone Laboratories in Murray Hill, NJ. A longtime resident of Ward 1 in Washington, DC, Mike now resides in Ward 5.