Food Waste Drop-Off Program
District residents can now drop off food waste at designated farmers' markets in all eight District wards free of charge. The food waste will be taken to a local composting site where it will be turned into compost, an environmentally friendly-soil amendment. Come visit us at one of our farmers' market locations and ask our compost experts for more information!
Spring 2018 Market Season Information
Market locations and dates are subject to change. For the most up-to-date information, please reference this website.
Ward
Location
Address
Program Launch Date
Day
Drop-Off Times
1
Columbia Heights Farmers' Market
14th and Kenyon Streets, NW
Open Now
Saturdays
9am-1pm
2
Dupont Circle Farmers' Market
1500 20th Street, NW
Open Now
Sundays
8:30am-1:30pm
2
Glover Park Burleith Farmers' Market
34th and Wisconsin Ave., NW
May 19, 2018
Saturdays
9am-1pm
3
University of District of Columbia Farmers' Market
4340 Connecticut Ave., NW
May 5, 2018
Saturdays
9am-1pm
4
14th and Kennedy Farmers' Market
14th and Kennedy St., NW
Apr 14, 2018
Saturdays
9am-1pm
5
Brookland Farmers' Market
716 Monroe St., NE
Apr 14, 2018
Saturdays
9am-1pm
6
Eastern Market (in front of Rumsey Pool)
635 North Carolina Avenue, SE
Open Now
Saturdays
9am-1pm
7
Minnesota Ave Farmers' Market
3924 Minnesota Ave, NE
June 2, 2018
Saturdays
9am-1pm
8
Ward 8 Farmers' Market
3200 6th St., NE
June 2, 2018
Saturdays
10am-2pm
Complete List of Items Accepted in the Food Waste Drop-Off Program
Materials Accepted
Materials Not Accepted
Fruit, vegetable scraps, and salad
Coffee grounds, paper tea bags, and loose tea
Bread, grains, cereals, rice, and pasta
Egg shells
Nutshells
Corncobs
Stale beans, flour, and spices
Cut or dried flowers
Milk, cheese, or other dairy products
Meat or Fish scraps and bones
Fats, grease, oil, or oily foods
Plastic bags, wraps or film
Coated or Uncoated Paper and Cardboard (Paper bags, plates, bowls)
Non-compostable materials like plastic, metals, foil, glass, or styrofoam
Pet refuse
Diseased or insect-infested houseplants and soil
Biodegradable or compostable plastics & packaging
How to Bring Your Food Waste to the Market
Acceptable food scraps and organic materials can be collected in covered plastic containers, paper/plastic bags. Please keep in mind that plastic bags are NOT recyclable in the District. We recommend rinsing plastic containers holding the food waste between uses and lining the bottom with shredded newspapers for odor control. Another tip for controlling odors is to store food scraps in the freezer or refrigerator.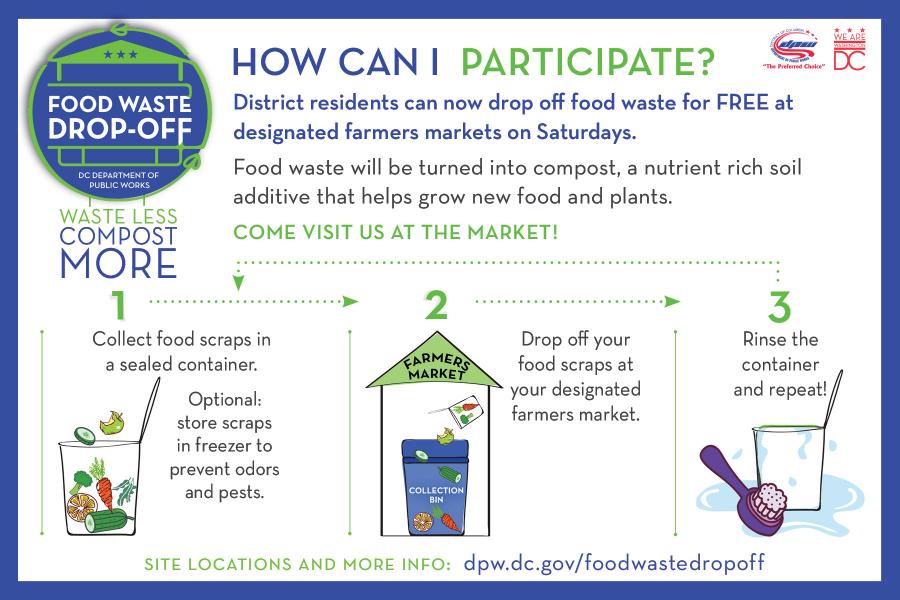 Can Businesses Drop Off Materials to Compost?
Commercial food scraps are not accepted. Businesses should contact a local hauler who can handle commercial organic waste.
How Else Can I Get Involved in Composting?
To learn how else you can get involved in composting, visit the Zero Waste DC website.