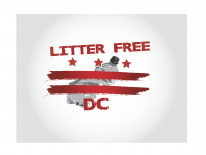 Litter Free DC is a new program sponsored by the Department of Public Works to eliminate litter from our streets.
Why is DPW starting Litter Free DC? Litter is ugly. Litter attracts rats. Litter lowers property values and makes neighborhoods unattractive.
Litter is expensive to remove. DPW spends about $19 million a year to keep our streets and alleys clean. And that money can be put to better use.
We are engaging high school and middle school youth because their parents want to know what they are thinking and their younger siblings want to be like them.
Litter thrown from trucks and cars can injure, even kill, as other motorists swerve to avoid it. A Litter Free DC is a safer DC.
We can have a Litter Free DC! Use any of the 4,800 street litter cans for your litter, NOT your household trash! Put household trash in your trash can or building's dumpster.
A Litter Free DC starts with you! Contact us to arrange a school visit or community meeting presentation. Call (202) 673-6833 or email Linda Grant at [email protected].
...