Wednesday, October 25, 2017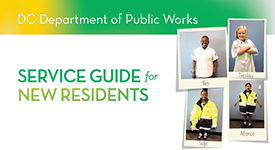 On behalf of the DC Department of Public Works (DPW), welcome to the District of Columbia! DPW provides many of the city services you will use most.
Our solid waste services keep the District clean, green and healthy, and our parking services keep the District safe and moving. Whether you live in a single-family home or an apartment building, we are here to work hand-in-hand with you to keep our communities and public spaces safe, clean and attractive for all residents across the District.