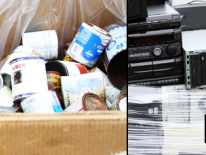 The safe disposal of hazardous household waste (HHW) and unwanted electronic equipment such as computers, televisions, VCRs/DVRs, stereos and fax machines (E-cycling) helps to prevent the release of dangerous, toxic substances into the environment and prevents harm and injury to DPW workers. Please review our list of Accepted/Prohibited Items. In general, HHW applies to any leftover or unused household products that are poisonous and/or can:
Burn or cause a fire
Eat away materials
Destroy living tissue on contact
Cause an explosion or release poisonous fumes when exposed to air, water or other chemicals
Damage or destroy cells and chromosomal material
Please do not put these items in trash or recycling containers or set out for bulk collection for DPW to pick up.
HHW Prohibited Items – Medicine and Needles & Sharps are household hazardous waste that require special treatment.
Needles & Sharps (syringes used for diabetic injections) The improper disposal of contaminated sharps is a serious safety concern for garbage collectors and landfill workers. Please review the Department of Energy and the Environment. step-by-step guidance sheet for safe disposal.

Medicine (Do not pour medications down the sink or flush down the toilet.) Please see the What Goes Where? tool on the District's Zero Waste web site. Enter "medications" in the search box for a list of local pharmacies that have medication drop-off boxes. If you cannot make it to a drop-off location, mix crushed pills or liquid with dirt, cat litter, or used coffee grounds, then put in the trash. Empty pill bottles are recyclable after removing personal information and label from the bottle.
Document Shredding
We also accept personal documents to be shredded on the first Saturday of each month at the Benning Road Transfer Station, from 7 am until 2 pm. No documents will be accepted for shredding except on the first Saturday of the month because DPW cannot secure these documents without the shredding contractor on site.
Drop-off Schedule for HHW / E-cycling
Disposing of HHW and unwanted electronic equipment is easy every Saturday between 7 am and 2 pm, except holidays, at the Benning Road Transfer Station, 3200 Benning Road, NE. The Fort Totten Transfer Station will not accept these items during this change. An additional HHW/E-Cycling drop-off occurs the Thursday preceding the first Saturday of the month (except holidays), between 10 am and 2 pm.
This section includes the following topics: