Graffiti Removal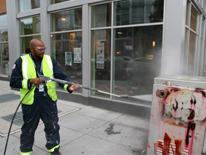 DPW provides residential and business property owners with two free options to remove graffiti themselves. The Graffiti Removal Voucher Program issues a voucher to property owners that may be redeemed at several local paint stores. Call 311 to obtain a voucher. The paint store will match the color of the paint of the property. The voucher will provide property owners with paint, primer, a brush, roller, pan, drop cloth and graffiti scrubs free of charge.
Property owners who want to remove the graffiti using a non-toxic solvent should call 311 and ask for a graffiti removal kit, which will be delivered to the owner's residence or business. The solvent is applied and sprayed off with a garden hose. There are two separate solvent formulas, one for bare brick and masonry, and a separate formula for sensitive surfaces. The solvents do not contain phosphates, chlorinated hydrocarbons, xylene or any other products known to cause health or disposal problems for graffiti removal technicians. They are 100 percent biodegradable and meet US Environmental Protection Agency standards.
DPW will clean graffiti from public and private property using paint or non-toxic solutions that are applied then removed with a high-pressure water spray, known as a power wash. The power wash is not suitable for walls with loose or crumbling masonry. Call 311 to request either of these services. A waiver of liability form will be provided, which must be signed by the property owner and returned to DPW before abatement will occur on private property. You can download the Graffiti Removal Waiver (en espanol: Formulario de descargo por la remoción de graffiti y renuncia de responsabilidad).
How You Can Help
Join Not in OUR DC! Pledge to Keep the Capital Clean, and get your family, neighbors, school, church and community organizations involved in making the District a litter and graffiti free zone. Go to www.connectwithkids.com/notinourdc for details.
Pick up litter and put it in the trash.
Make sure your trash and recycling containers have tight-fitting lids and are free of holes.
To report graffiti, call 311 and give the operator the specific location (an address is best), and a description of the graffiti.
Report broken/damaged street litter and recycling cans immediately to the Mayor's Citywide Call Center by calling 311. Provide the location and description of the problem (such as, damaged can, missing liner can off its base).
---
Request the following services by calling 311 or using 311.dc.gov.
Graffiti Removal by DPW
Before DPW can remove graffiti from private property, a signed Graffiti Removal Release Form (Waiver) is required.
Graffiti Removal by Property Owner - Paint Voucher Request
Request a paint voucher the property owner can redeem at several local paint stores.
Office Hours:
Monday to Friday 8:15 am - 4:45 pm