Litter and Graffiti Prevention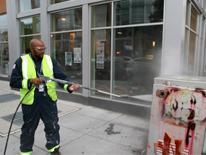 Litter and graffiti are public nuisances and cost the District and its residents more than just money. Litter diminishes the beauty of the nation's capital and piles of litter attract rats and other pests. Trash thrown or blown from trucks and cars can lead to injuries, even death, as motorists swerve to avoid it.
Graffiti tarnishes the appearance of our neighborhoods. Gang-related graffiti can threaten violence or identify turf boundaries.
Office Hours:
Monday to Friday 8:15 am - 4:45 pm