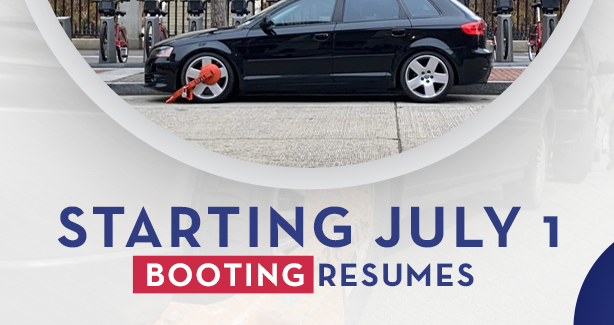 Parking Enforcement – Frequently Asked Questions
When Will Booting Resume?
Distrit-wide booting resumes July 1. Vehicles with two or more unsatisfied parking, photo, and/or minor moving violations over 60 days are subject to booting. Such vehicles can be towed.
Has Full Parking Enforcement Resumed?
District-wide parking enforcement along with booting and towing is in effect as of July 1. Please adhere to all posted signage.
Is Residential Parking Permits (RPP) Being Enforced?
Districtwide enforcement of Residential Parking Permits is now being enforced. In residential neighborhoods, check the signage to determine how long you can park in the zone. Remember, parking anywhere in the entire zone is prohibited once the time allowed has passed.
Will Vehicles With Expired Tags Be Ticketed?
Effective June 1, 2021, all vehicles must have valid registration and inspection stickers; vehicles with expired stickers can be ticketed.
Is Registration for Out of State Automobiles (ROSA) Being Enforced?
Effective June 1, 2021, DPW is enforcing Registration for Out of State Automobiles (ROSA). The District requires motorists to register their vehicle(s) within 60 days of moving to the city. DPW enforces this regulation in three phases (observation, warning, and enforcement).
Can I Be Ticketed at an Expired Meter?
You can receive a ticket at an expired meter. The instructions on the meter indicate how much time one can park. If the meter is broken, a motorist may park up to the time indicated on the meter. Before leaving the vehicle, call (202) 541-6030 or 311 to report the broken meter. Please keep the confirmation number.
Will DPW Dispatch Abandoned Vehicle Investigators?
The District continues looking for abandoned and dangerous vehicles to investigate and then remove from public and private property. Dangerous vehicles may be removed from public and private property immediately, once they have been ticketed. Otherwise, abandoned vehicles will be removed within five business days from public space and 45 days from private property.
Street Sweeping Frequently Asked Questions
Is DPW Enforcing Restrictive Parking During Street Sweeping Hours?
Yes, signs are posted that identify the days and hours when parking restrictions are being enforced so the sweepers can clean the streets effectively. The fine for violating this restriction is $45. Street sweeping parking enforcement resumed June 1. The program represents a pledge by residents who have committed to move their vehicles when sweeping is underway.
Ground Maintenance Frequently Asked Questions
Will DPW Mow Triangle and Median Parking This Summer?
DPW will continue seasonal mowing and cutting on all District roadway median strips and District-owned rights of way. Additionally, DPW mows roadside areas along major District thoroughfares, and provides cutbacks to overgrowth throughout the city's alleyways.
Can I Request DPW Service's by Dialing 311?
Residents can request all DPW services by calling 311, 202-737-4404 or texting DC311.