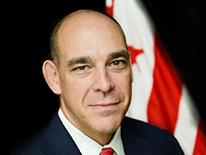 Mayor Muriel Bowser named Christopher Geldart to serve as Acting Director of the Department of Public Works on January 28, 2019. He leads the DC agency that provides the most traditional municipal services: environmental/solid waste management and parking enforcement. Both contribute to making District streets and public spaces clean, safe, attractive and accessible. DPW also manages the District's fleet, which enables other District agencies to perform their public safety, social services, infrastructure maintenance, and other services.
Director Geldart is a recognized leader in emergency management, whose in-depth experience spans municipal, state and federal agencies, as well as the private sector. He is proficient in coordinating resources available to government agencies, regional authorities, public utilities and the private sector to achieve successful outcomes to emergency situations.
Mr. Geldart served as Director of the DC Homeland Security and Emergency Management Agency from 2012-2017, where he led the planning and execution of three presidentially declared disasters and 20 national special security events. During his tenure with HSEMA, he directed the response to major snow storms as well as Hurricane Sandy. Examples of the special security events are presidential inaugurations and State of the Union Addresses.
On the federal government level, Mr. Geldart's served as the Federal Emergency Management Agency's Director of the National Capital Region Coordination Office. In this capacity, he was the federal government's lead for domestic preparedness in the National Capital Region. He furthered the region's efforts in risk management, federal participation in regional planning with state and local partners, and catastrophic planning throughout the greater National Capital Region. Before joining FEMA in April 2007, Mr. Geldart worked for the State of Maryland as Assistant Director of the Governor's Office of Homeland Security. He also served in the United States Marine Corps from 1989 to 2001, where he had several leadership positions in the Fleet Marine Force and was certified as an instructor in a joint military formal school environment.
Mr. Geldart earned a bachelor's degree in American History from the University of Maryland.