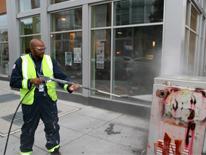 DPW will clean graffiti from public and private property using paint or non-toxic solutions that are applied then removed with a high-pressure water spray, known as a power wash. The power wash is not suitable for walls with loose or crumbling masonry. Call 311 to request either of these services. A waiver of liability form will be provided, which must be signed by the property owner and returned to DPW before abatement will occur on private property. You can download the Graffiti Removal Waiver (en espanol: Formulario de descargo por la remoción de graffiti y renuncia de responsabilidad).
How You Can Help
Pick up litter and put it in the trash.
Make sure your trash and recycling containers have tight-fitting lids and are free of holes.
To report graffiti, call 311 and give the operator the specific location (an address is best), and a description of the graffiti.
Report broken/damaged street litter and recycling cans immediately to the Mayor's Citywide Call Center by calling 311. Provide the location and description of the problem (such as, damaged can, missing liner can off its base).
---
Request the following services by calling 311 or using 311.dc.gov.
Graffiti Removal by DPW
Before DPW can remove graffiti from private property, a signed Graffiti Removal Release Form (Waiver) is required.
Office Hours:
Monday to Friday 8:15 am - 4:45 pm