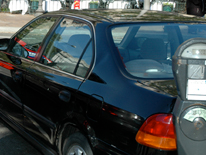 *****Parking Enforcement Resumes*****
Effective June 1, 2021, DPW will resume full enforcement of the following parking violations:
Expired parking meters
Expired residential parking permits (RPP)
Expired vehicle tags
Parking in no parking zones (violators will be towed and ticketed)
Registration of residential out-of-state automobiles (ROSA)
Abandoned vehicles (i.e., with flat tires, expired registrations)
Also, effective June 1, the following will resume:
Enforcing sanitation violations under the Solid Waste Education and Enforcement Program (SWEEP).
Street sweeping; therefore, vehicles parked in street sweeping zones during posted sweeping hours will be ticketed.
Effective July 1, 2021, booting vehicles with two or more unsatisfied parking, photo, and/or minor moving violation tickets over 60 days old will resume.
---
DPW issues parking tickets to vehicles that violate the District's parking regulations. The most common types of violations are expired meter, parking longer than allowed in a Residential Permit Parking neighborhood, morning and afternoon rush hour, and expired tags.
DPW does not ticket vehicles with a valid visitor's pass or ROSA exemption.
Search for Ticket Image/TicPix
A picture is worth a thousand words, so the Department of Public Works is posting images of parking tickets and the violations that led to tickets being issued by DPW. The images of certain parking violations are posted so motorists will better understand why tickets are issued.
Adjudicate a Ticket
The Department of Motor Vehicles is responsible for adjudicating parking tickets motorists believe were issued erroneously. To adjudicate a ticket, motorists should follow the directions on the back of the ticket.
After finding the image of the parking violation, DC Department of Motor Vehicles allows you to pay tickets online or adjudicate the ticket. The DC Central Collection Unit of the Office of Finance and Treasury is responsible for arranging payment plans to resolve tickets.
Avoid a Parking Ticket
An Expired Meter
At a meter, the instructions on the meter indicate how much time one can park. If the meter is broken, a motorist may park up to the time indicated on the meter. Before leaving the vehicle, call (202) 541-6030 or 311 to report the broken meter. Please keep the confirmation number. Park at a meter only for the time shown on the meter. No feeding the meter, please.
Residential Permit Parking Violation
In residential neighborhoods, check the signage to determine how long one can park in the zone. Remember, parking anywhere in the entire zone is prohibited once the time allowed has passed. Residents may obtain a visitor's pass for their visitors' use when parking in an RPP zone; however, this pass is effective in preventing the motorist from receiving a ticket for an RPP violation, not a ROSA (Registration of Out-of-State Automobiles) violation.
ROSA (Registration of Out-of-State Automobiles) Violation
Like most states, the District requires motorists to register their vehicle(s) within 60 days of moving here and the Department of Public Works enforces this regulation. DPW's ROSA enforcement process has three phases:
Observation: The first sighting of an out-of-state vehicle parked on public space and the vehicle's license plate number is entered into our system. Our ROSA crews work Sunday-Thursday, 10 pm-6 am. We do not enforce ROSA on Friday and Saturday nights because we anticipate an increased number of out-of-state family and friends visiting the District on weekends.
Warning: This occurs 15 days after the vehicle was first observed. DPW will issue a warning notice to the vehicle. On the back of the notice is an explanation of why the warning was issued and instructions to be followed to receive an exemption if the motorist is not a District resident.
Enforcement: This occurs 15 days after the vehicle was issued a warning notice. A ROSA ticket may be issued every time the vehicle is sighted if no exemption from this regulation has been acquired. Once a vehicle receives a one-year exemption from the Department of Motor Vehicles, the exemption and its expiration date are entered into our database.
Note: A vehicle with a visitor's pass is not exempt from ROSA enforcement.
Office Hours:
Monday to Friday 8:15 am - 4:45 pm
Service Location:
GIS Address:
2235 Shannon Place SE, Suite 3040