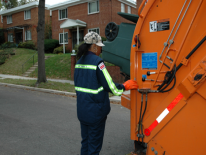 DPW collects trash once or twice per week from single-family residences and residential buildings with three or fewer living units.
DPW collects large, bulky items by appointment from residential households that receive DPW trash collection service.
DPW collects up to five bags per week of yard waste from residences that receive DPW trash and recycling collection services.
DPW is responsible for collecting dead animals from public areas. Call DPW if you need to schedule a removal.
Please request that items left more than 72 hours after an eviction be collected. DPW will collect any items left on public space after that time.
Office Hours:
Monday to Friday 8:15 am - 4:45 pm