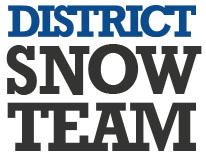 The District Snow Team is composed of the Department of Public Works and the District Department of Transportation, with the assistance of other DC government agencies. The Snow Team clears streets of snow and ice to promote safe vehicular travel. Residential and commercial property owners are asked to clear their sidewalks within 24 hours of a storm's end so pedestrians can walk safely.
If the weather prediction indicates a significant accumulation of snow, the Mayor may declare a snow emergency, and parking will be prohibited on streets that are designated as snow emergency routes (signs with red lettering are posted along these routes). This will allow the District Snow Team to clear the streets curb-to-curb. In general, rush-hour streets also are snow emergency routes.
An announcement of a snow emergency declaration will be made prior to the snow emergency going into effect to give motorists an opportunity to find alternative legal parking spaces. Once a snow emergency is in effect, vehicles parked along these routes will be ticketed and towed.
The District has 345 pieces of equipment and approximately 750 personnel available for any given storm. This includes additional contract plows, if necessary, for major weather events. The number of plows and other equipment to be deployed, and when they are on their routes, depends on the predicted severity of the upcoming storm. Prior to a storm, the Snow Team will pre-treat bridges, overpasses, ramps, other elevated structures and streets where clearing snow and ice is challenging with a salt brine/beet juice mixture, which creates a chemical reaction that keeps the salt on the road surface rather than drying and turning to dust and lifting off the road surface.
In addition, the District Snow Team is using improved route plans – first implemented in 2008 – which divide the city's neighborhoods into 82 smaller, more manageable routes. These 82 residential routes are treated at the same time major streets and roadways are treated.
When a storm is particularly severe, such as with the 2010 Snowmageddon, when more than 28 inches of snow fell between February 5 and 10, the following agencies support the Snow Team:
The Office of the Deputy Mayor for Public Safety and Justice
The Homeland Security and Emergency Management Agency
The Metropolitan Police Department, Fire and Emergency Medical Services
The Departments of Health, Human Services, Parks and Recreation, and Corrections
The Office on Aging
DC Public Schools
DC Water
The Office of Unified Communications
How You Can Help
Office Hours:
Monday to Friday 8:15 am - 4:45 pm