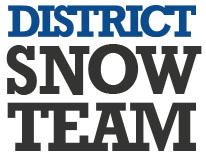 The District Snow Team is composed of the Department of Public Works and the District Department of Transportation, with the assistance of other DC government agencies. The DC Snow Team clears streets of snow and ice to promote safe vehicular travel. Residential and commercial property owners are asked to clear their sidewalks within 24 hours of a storm's end so pedestrians can walk safely.
Snow Emergency Routes (SERs) are indicated by red and white signs posted along the District's larger commercial streets. Generally, SERs are our rush hour streets.
Motorists may not park on snow emergency routes while the emergency is in effect to allow snowplow drivers to clear these streets curb-to-curb. Their vehicles are subject to being ticketed and towed. To learn where a vehicle has been towed, call the Towed Vehicle Locator office at 202.541.6083 or go to http://dpw.dc.gov/service/locate-towed-vehicle.
The snow emergency will remain in effect until an announcement is made that it has been lifted. Motorists are asked to tune into television and radio broadcast stations or go to www.snow.dc.gov for a notice that the snow emergency has been lifted.
Useful Tips:
If a snow emergency is declared, DO NOT park your car on SERs.
Red and white SER signs generally are posted higher on the pole than the other signs, so look up to the top of the pole to make sure you are parked legally.
Parking is banned on these routes to allow unimpeded curb-to-curb salting or plowing.
To locate a towed vehicle, please call 202.541.6083.
The District has more than 400 pieces of equipment and approximately 834 personnel available for any given storm. This includes additional contract plows, if necessary, for major weather events. The number of plows and other equipment to be deployed, and when they are on their routes, depends on the predicted severity of the upcoming storm. Prior to a storm, the DC Snow Team will pre-treat bridges, overpasses, ramps, other elevated structures and streets where clearing snow and ice is challenging with a salt brine/beet juice mixture, which creates a chemical reaction that keeps the salt on the road surface rather than drying and turning to dust and lifting off the road surface.
The District's Snow Team is committed to a quick completion of plowing and salting along major roads and residential streets, which in turn means a more faster return to normal traffic flow and earlier resumption of trash collection and other city services. Residents concerned about the treatment or plowing of specific roads should call the Citywide Call Center by dialing 311. For more information about DC's snow program and preparing for winter weather, or to see where District Snow Team plows are working, go to snow.dc.gov.
Check out our #WinterReadyDC brochure to find out how you can be prepared for this winter. [pdf]
The DC Snow Team advises pedestrians and motorists to heed the following safety tips:
Keep a safe distance from emergency and snow vehicles and use caution when attempting to pass a snowplow – give drivers plenty of room to safely do their jobs.
Take Metro as an alternative to driving.
Drive cautiously and maintain safe speeds and distances from other vehicles.
Drive carefully on bridges, ramps, and other elevated structures which can freeze before the roadway.
Before a snow event, residents and commercial property owners should apply abrasives such as rock salt, de-icer, or non-clumping kitty litter to the sidewalks around their properties to reduce the possibility of icing and to prevent slips and falls.