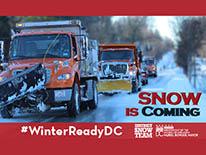 Sidewalk Shoveling Exemption Program November 1, 2023 – March 31, 2025
The Department of Public Works (DPW) is charged with enforcement of the Winter Sidewalk Safety Act ("WSSA"), which requires District residents to remove snow and ice from the paved sidewalks, curb ramps and curb cuts abutting their property after a snowstorm. Qualified residents who are disabled and/or 65 or older are exempt from enforcement with an approved exemption.
The Sidewalk Shoveling Exemption Program (SSEP) exempts qualified residents from enforcement by DPW for not removing snow and ice from their sidewalks within the first eight hours of daylight after the end of a winter storm. The exemption is valid for two consecutive snow seasons. Once approved, residents must apply every other year to DPW to continue to receive the exemption.
All individuals who are accepted into the 2023-2024 exemption program will receive a certificate of acceptance from the Department of Public Works Solid Waste Education and Enforcement Program (SWEEP) for the Sidewalk Shoveling Exemption Program period November 1, 2023 – March 31, 2025. Any resident found to be ineligible for exemption last year had to re-apply by October 31, 2023 to be considered for the current exemption period. Residents who fill out the applications below will be considered for the next exemption period.
For additional questions related to this program and eligibility, see the FAQ.
To apply for your exemption go to Sidewalk Shoveling Exemption Form.