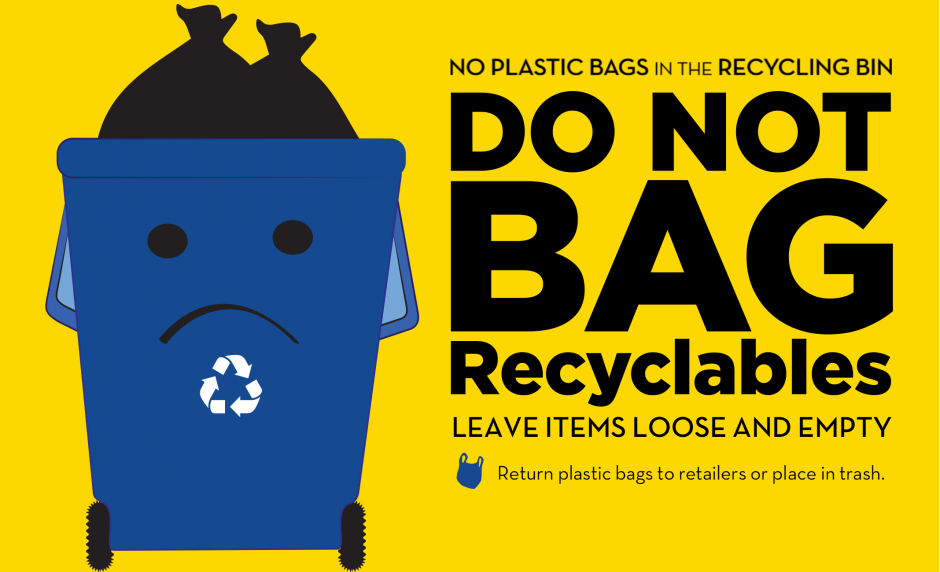 Background
Plastic bags, wraps, and film of any color, size, or shape are not accepted in DC's curbside single stream recycling bin (the blue bin).
On a daily basis, the items clog machinery used to process recyclable materials resulting in operational problems, facility shutdowns and safety hazards to employees.
Types of Plastic Bags and Wraps No Longer Accepted
Plastic Liners or trash bags (any color/size)
Retail/Grocery Plastic Shopping Bags
Produce Bags
Zip Close Food Storage Bags
Bread/Bakery Bags
Crinkle Bags (e.g. snacks, pasta)
Dry Cleaning Bags
Case Wrap and Film (e.g. beverage cases)
Newspaper Bags
Air Pillows and Bubble Wrap
*Commercial entities may use clear or non-pigmented plastic bags liners to hold clean and empty recyclables; however, unbagged recyclables are preferred.

From Home to Curbside
Just remember: Recycling facilities may reject recyclables if they are contained in a plastic garbage bag or include wraps and film of any kind. Consider designating a recycling bin, basket or a reusable tote bag within your home to collect your recyclables. Recyclable materials (e.g. bottles, cans, paper) should still be dumped loosely into your curbside recycling bin. Note: although the District's curbside recycling collection program works best when materials are not bagged at all, some residents may prefer to collect recyclables in an open paper bag which may be dropped into their collection cart. These paper bags will be recycled along with the materials you have collected.
Recycling Through Store Drop-Off
It is possible to recycle these materials if they are dropped off at grocery stores and retailers voluntarily participating in a plastic film recycling program. When these materials are dropped-off at participating locations, they are recycled into many products including new bags, composite lumber, pallets, containers, crates, pipes, and more. There are more than 25 locations throughout the District along with additional options in Maryland and Virginia. You can also enter your zip-code to find your nearest recycling location by going to the Plastic Film Recycling Directory (http://www.plasticflimrecycling.org).
Pro-Tip: Bring A Reusable Bag
Waste less like a pro and keep plastics out of waterways by reducing your usage of them. A District-wide bag law survey revealed that the most common reason why residents aren't using reusable bags is because they forget them at home. To get would-be reusable bag users over the hurdle of forgetfulness, DC's Department of Energy and Environment has launched a Share-A-Bag initiative in the NoMa DC Neighborhood.
Participants can grab a free, reusable bag or leave one at the exchange kiosks. Visit Share-A-Bag to learn how to participate.
Commercial Entities and Bin Liners
For commercial properties, which include multifamily dwellings with four or more units and non-residential commercial entities, a clear, plastic liner is accepted to collect recyclables in receptacles. These plastic liners are also NOT recyclable themselves and are currently accepted for the convenience of commercial operations. While commercial properties are not prohibited from using clear bin liners, recycling haulers may elect not to accept them. DPW's transfer stations will accept clean and empty recyclables bagged in a clear bin liner from commercial entities. DPW-collected curbside residential recyclables should involve no bags or liners at all.
Questions?
For more information, please email [email protected].
Related Links
Plastic Bag, Wraps and Film Recycling Directory by Zip Code
Mayor's List of Recyclables and Compostables
Recycling: What is Accepted and Not-Accepted
Affected Types of Plastic Bags, Wraps and Film