Rachel Blinka – Intern, Office of Waste Diversion (OWD)
What do proper food storage techniques and shopping smart – not buying food that will spoil before you eat it – have to do with DPW's Office of Waste Diversion? Plenty! These are strategies to reduce waste at its source, which DPW actively promotes through its food waste drop-off program and in partnerships with DC Food Recovery Waste Working Group andDC Food Policy Council. For Rachel Blinka, OWD summer intern 2019, DPW's food waste program is helping her explore the intersection of public health and the environment, a place she wants to be. She will close out her internship this month with a report on her research into ways OWD might increase its capacity to divert food waste from trash. "I like talking about trash and food waste and educating people," said Blinka, who is a certified health education specialist with an undergraduate degree from the University of Cincinnati. She is currently a George Washington University graduate student working toward a master's degree in Public Health.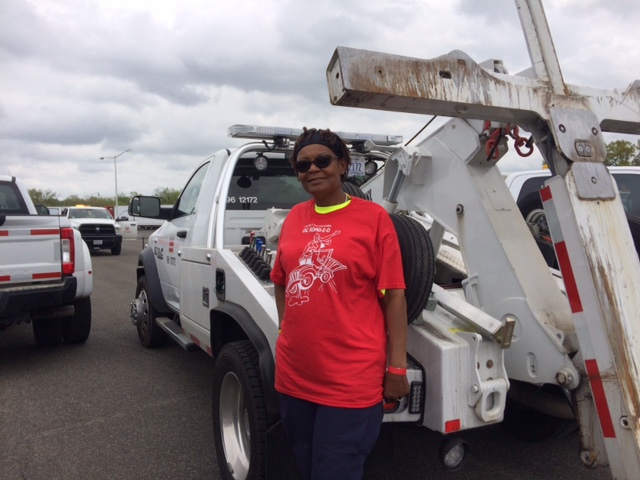 Daisey Couloote
"Sometimes when we answer a call to tow a booted vehicle, we get there and find a boot, but no car." As a PEMA tow truck driver for the past 7 years, Daisey Couloote can verify: some motorists just can't handle getting the boot. They find ways to get the contraptions off of their tires or they change tires. "Sometimes, we don't find anything. They took the boot and their car." The owners of booted vehicles are scofflaws. They have two or more tickets that are at least 60 days old and uncontested. Rush Hour towing, in contrast, doesn't have these conditions. Vehicles parked in rush hour lanes during the posted hours are subject to immediate tow. During morning rush hour on Connecticut Ave NW, 2600 block to 5400, drivers give Couloote the "thumbs up" when they see her towing. "They even stop traffic to let me make a U turn so I can get a car in the rush hour lane on the other side of the street." Or maybe they just recognize a good driver when they see one. At the DPW 2019 Roadeo last month, Couloote won 1st place in the tow truck category.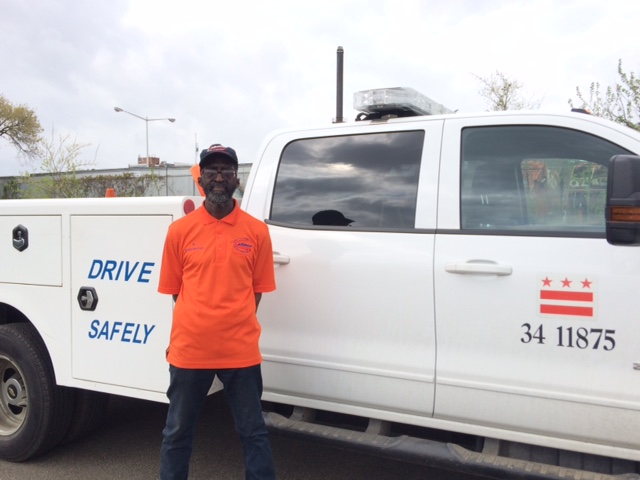 Kennard Charles aka "Flavor" aka "KC"
If you call DPW's Solid Waste Management Administration's equipment yard at RFK Stadium Lot 8 and ask for Flavor, everyone knows who you want. He's Kennard Charles, mobile service mechanic, sometimes known as KC. "I add flavor to the group," he said when asked how he got the nickname. He brings "good aroma" and "cheer" wherever he goes. And he goes wherever he's called. "My truck is my office. I'm like the Fire Department. I'm ready to go when they call me." The 13-year DPW mechanic works mostly on heavy equipment, responding to calls for broken-down vehicles on the street. Leaf season prompted the need for mobile mechanics, KC explained. The vacuum trucks stop working if leaves get stuck. During snow season, "plows come off, tire chains pop, and spreaders stop working if salt gets wet." He'll fix the problem on the spot if possible. Otherwise, he calls for a tow or a tire change. "DPW is a team effort," he said, "just like a basketball team. No one man can do it all."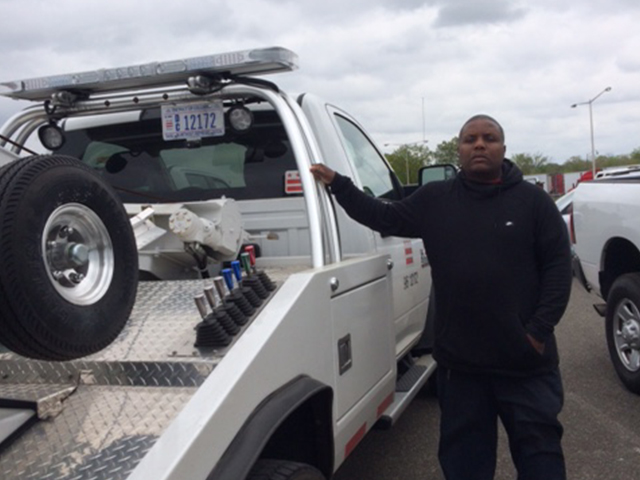 Gary Pyles
Driving a PEMA tow truck is a dangerous job, but someone has to do it, said Gary Pyles. The 15-year DPW veteran has had a gun pulled on him answering a call to tow a boot and been spit on. "The first thing we do in cases like that is get out of there and call our superintendent," he said. The superintendent calls the Metropolitan Police Department. "Nobody is going to get hurt for a car," he said. Following standard procedure, PEMA tow truck drivers won't go into bad neighborhoods unless the police are already there. Sometimes the PEMA dispatcher will call the police to follow a tow truck to the scene. The US Park Police and MPD are involved in helping PEMA control food trucks parking illegally on 14thStreet NW on the National Mall. "When we pull out our ticket book – hand-held device, we can run them off, but they come right back," Pyles explained. PEMA can't tow a food truck unless it has unpaid tickets and the driver is out of the truck. That's when the muscle of MPD and the US Park Police helps out: they can threaten to arrest drivers for not getting out of their trucks.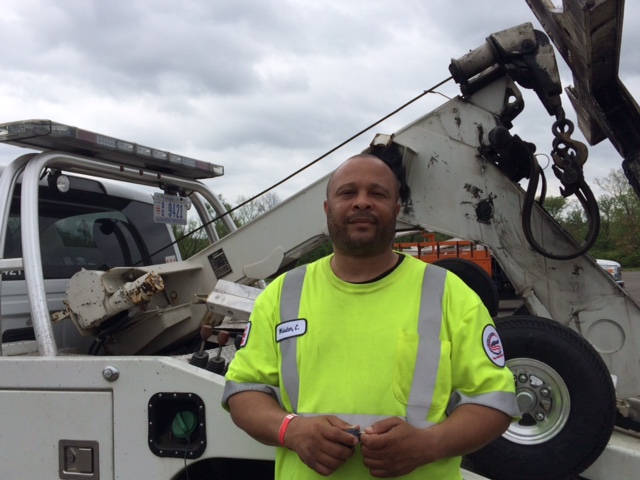 Chuck Webster
The job of a DPW Parking Enforcement crane operator is dangerous, Chuck Webster agrees. But on one occasion in his 17 years of experience, the DC Metropolitan Police thought Webster was the danger. He and another operator were dispatched to the River Terrace neighborhood in Northeast DC to tow a vehicle when the vehicle's owner pulled a gun on them and called the police. MPD arrested the crane operators – put them in cuffs and took them to the precinct. "We were in a separate holding cell and had to stay there for 6 hours until a superintendent came to the precinct." Webster has dealt with a lot of angry citizens on the job. "People sic dogs on me," he said. In that case, he just prays and jumps in the truck. Some of the biggest trouble spots are on neighborhood streets when residents call PEMA to tow a vehicle, but it turns out there's no violation. He has to explain that no one owns parking spots on a public street, and if a vehicle isn't parked illegally, PEMA can't tow it. On the plus side, Webster has learned patience. "I'm always telling people, sometimes we have to be neighborly."