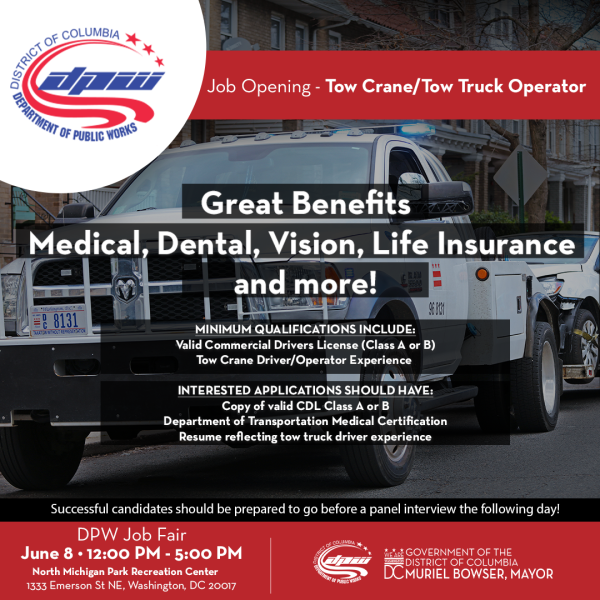 The Department of Public Works (DPW) will host a community job fair. The job fair will take place over two days, on Wednesday, June 8 from 12 pm to 5 pm each day at the North Michichgan Park Reccreation Center located at 1333 Emerson St NE, Washington, DC 20017. As a second chance employeer we want to provide an opportunity for the community including our returning citizerns to get to know DPW and learn about our vacant positions. DC is a great place to live and District Government agencies like DPW are a great place to work", said DPW Interim Director Mike Carter. DPW has positions available across the agency with several positions available for motor vehicle operators, and more.
Each day of the job fair, job seekers can talk to DPW human resource representatives, apply for vacant positons, and qualified applicants may be invited for an interview, additional screening, or testing.
All indivudals who plan to attend the fair should bring government issued identification. Applicants interested in motor vehicle operator (tow truck driver) positions should also bring their resume highlighting their tow truck driving experience, valid Commercial Drivers License, and their DOT Medical Certification.
Applicants have the option of claiming additional preference if they are:
A District resident;
Anyone claiming District residency preference at the time of application should be prepared to provide a government-issued form of identification.
Class A or B CDL License is Required