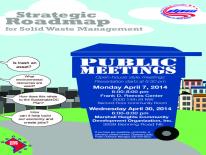 Public Meeting
Strategic Roadmap for Solid Waste Management
---
Date: Monday April 7, 2014
Time: 6 - 8 pm
Location: Frank D. Reeves Center, 2000 14th Street NW
---
Date: Wednesday April 30, 2014
Time: 6 -8 pm
Location: Marshall Heights Community Development Organization, Inc.
3939 Benning Road NE
---
If you have any questions or comments about the meeting, please feel free to contact Hallie Clemm at (202) 645-0744 or via email at [email protected].
Stay informed about DPW's Solid Waste Management program.
Keep visiting our page for more updates.