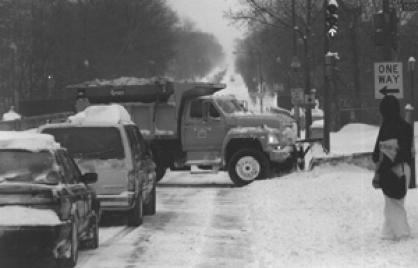 While the average annual snowfall in the District is 18 inches, it varies from season to season because the District straddles the snow/ice weatherline, making predictions less reliable. The city often faces storms that are not forecast or "under-forecast." Therefore, the District sometimes experiences ice, sleet, or freezing rain when snow is not specifically forecast.
Sleet and freezing rain are also hazardous. Although sleet usually bounces off of surfaces and does not stick to objects, it can accumulate like snow and cause hazardous driving conditions.
Rain that falls onto a surface with a temperature below freezing will freeze to the surface. This freezing rain can bring down trees, electrical wires, telephone poles and lines, and communication towers, and cannot be plowed.
Therefore, the city must continually evaluate the forecast based on historical data, conditions on the streets, and available capabilities.
Mobilization
When the forecast shows that "snow is coming," the District's snow drivers, fleet mechanics, and other snow personnel are put on standby while alerting the media. DPW provides a brief description of plans for a variety of weather conditions below.
Light Dusting to Major Ice/Rain/Snow Storm - The detailed plan, posted by the District Division of Transportation, lists eight levels of winter weather - ranging from a dusting of less than 2 inches, to a major snow fall of 18 inches or more - and the graduated responses by District agencies and contractors. The response varies according to the level of the forecast and the actual amount of snow, sleet, and ice.

Light Dusting - For less than 2 inches of snowfall, the District uses salt only when snow begins to fall or streets freeze. Salt is most effective when heavy traffic churns it into a melting mix with snow. Salt is not used when the streets are dry because it eventually will be swept into the gutters and wasted.
During a light dusting, the Snow Center is activated, and the District heavy and light plows and major contractors are mobilized. Once the storm ends, salting will be completed in four hours on major roads, the eight "major contractor" highways, and the problem streets. For problem alleys, salting is completed in six hours; on the remaining residential streets, salting should be complete in eight hours.
The DC Snow Team deploys quality assurance teams at the end of each shift. In a light dusting condition, bus, trash, and recycling operations are at near normal service; the contract plows are not mobilized.

Snow Storm of 12-18 Inches - At the heavy end of the storm spectrum (12-18 inches), plowing begins while the snow is falling. Traffic lanes are cleared to bare pavement in 24 hours and curb-to-curb in 36 hours, after the storm. For problem streets, one lane is made passable in 24 hours; problem alleys are treated with salt for trash removal, but are not plowed and may remain snow packed. For the remaining residential streets, clearing begins 24 hours after the end of the storm to make one lane passable in 48 hours.
Trash collections are suspended until streets are passable. Residents should put new waste out at the curb but not move containers of old waste from alleys. Waste in alleys will be collected as soon as conditions permit. Bus service may be delayed.
Property owners are responsible for clearing snow and ice from sidewalks abutting their property.