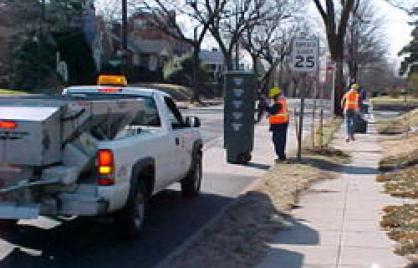 Under a $4 million contract, over 75,000 new Supercans are being distributed to residences, across all eight wards, in the outer ring of the City. The Supercan service territory is generally comprised of households East, West and North of Florida Avenue. Old receptacles, except those previously purchased by residents, will be replaced with new ones. Distribution began east of the Anacostia River in March and will continue westward. Wards 6, 7 and 8 have been completed. Delivery is now underway in Wards 4 and 5. As of June 1, approximately 36,000 new Supercans have been delivered.
The contractor handling distribution of the new Supercans is C&E Industries of Washington, a minority-owned business headquartered in Ward 8.
The first Supercans were distributed free of charge to City residents some 18 years ago. The Supercans were oversized (96 gallons) for greater trash capacity, had lids for more secure containment and wheels to facilitate ease of use by residents. Because of the capacity of the new containers, collection service could be consolidated into a schedule of once per week. However, free Supercans have not been available since the City's budget problems of the mid-90s, although some residents have purchased new cans from the City ($62). Most other Supercans still in use have largely fallen into disrepair - having lost wheels, lids and handles - after many years of hard use.
Residents living in the older parts of the city, have twice weekly trash pick-up and will continue to use the smaller, 42 gallon garbage containers.