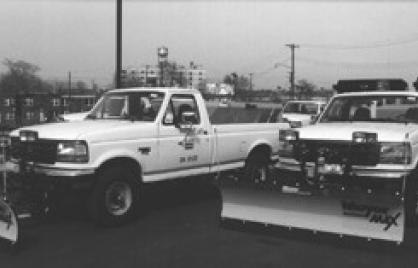 This weather forecast makes children think of "no school," motorists think of "bad roads," and DC officials think of "mobilization" to clear the city streets as soon as possible.
The District's planning for the winter has been underway since spring. In fact, the plan - DC Snow 2001 - has several major new elements that significantly increase the city's snow clearing capabilities for residents, businesses, and visitors.
While implementation is always affected by the severity, length, and number of storms, the city is committed to faster completion of plowing of major roads, quicker cleaning of residential streets, earlier resumption of trash pickup, more rapid return of normal bus routes, and manual clearing of pedestrian-intensive areas. In general, the main roads - both residential and commercial - are cleared first in order to open or keep open at least one lane of traffic. The "problem" residential areas - shaded, narrow or steep - are cleared next and then the remaining residential streets.DC Snow 2001
The key components of DC Snow 2001 are:
New Equipment - DPW added 60 new dump trucks with plows for major roads cleanup and 39 new light plows for residential streets. All trucks are equipped with Ice Ban de-icer, a compound designed to work in below-freezing temperatures.
Increased Residential Deployment - DPW added 31 new residential routes to clear "problem" streets and those streets scheduled for solid waste pick-up and Metrobus service.
Better Use of Contractors - DPW enhanced quality control and training for contract plow operations. Contact plows augment DC plows on major routes when more than 4 inches of snow is in the forecast. Separate "major contractors" take total responsibility for eight highways and bridges: South Capitol Street, Suitland Parkway, Pennsylvania Avenue (from the Capitol to Southern Avenue), I-395 and 295, New York Avenue, Canal Road and Loughboro Road.
Increased Training - DPW increased Citywide training sessions for all personnel involved in snow removal.
Enhanced Quality Assurance - New neighborhood quality assurance workers will monitor the effectiveness of clearing operations.
Parking Enforcement - Cars parked on snow emergency routes will be towed and owners fined $250 immediately after a snow emergency is declared.
Snow Coordinator - Peter LaPorte, Director of the District of Columbia Emergency Management Agency (DCEMA), has been appointed the Citywide snow coordinator by Mayor Anthony Williams. He will enhance inter-agency cooperation and overall effectiveness.
How does the DC Snow Team respond to a storm? Click here to visit the Snow Chart to find out what you can expect.