NEW! HOLIDAY TREE AND GREENERY COLLECTION:
Holiday Trees and Greenery will be collected December 27 – January 31.
Residents in DPW-serviced households can dispose of their trees and greenery in three ways:
1) by calling 311 to schedule an appointment,
2) at one of four locations or
3) with regularly scheduled trash or recycling collection.
We've had a larger than anticipated response for scheduled pickup and we are working diligently to fulfill every request. Extra crews are working to collect holiday trees and greenery. Since collection began, 128 tons or 11,700 trees have been collected and we are on track to collect more trees than we did in 2019. Please note that after January 31st you may place your holiday trees and greenery where your trash and recycling is collected. These trees and greenery will not be composted.
Drop off Locations:
Benning Road Transfer Station 3200 Benning Road, NE: 9AM-4PM
Fort Totten Transfer Station 4900 Bates Road, NE: 9AM-4PM
Bryant Street Sweep Shop 201 Bryant Street, NW: 9AM-4PM
South Capitol Street Graffiti Shop 2700 South Capitol Street, SE 9AM-4PM
DPW does not provide collection services for apartment and condominium buildings with four or more units. Owners and managers of these properties are required to provide their tenants with solid waste collections (this includes leaves and holiday trees/greenery).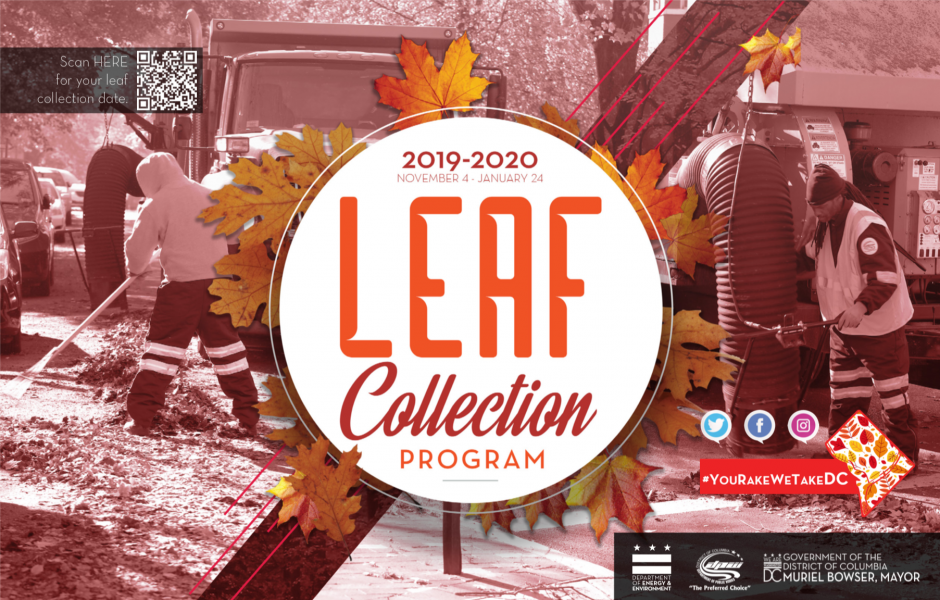 2019-2020 Leaf Collection
The fall leaf collection program runs from November 4 through January 24. Please rake your loose leaves into your tree box (or at the curb if there is no tree box) the Sunday before your scheduled collection week. Every street will have two scheduled collection weeks. Our crews will only come once during each scheduled week. Residents can sign up for the MyDPW app to receive custom alerts for when leaf collection is scheduled for their street. The alert will remind residents the Friday prior to their scheduled collection week, and it will alert residents if leaf collection is delayed or suspended on their street.
Each year DPW collects and composts between five and seven thousand tons of loose leaves. Unfortunately, bagged leaves placed where your trash is collected are not composted and will be picked up as space in our trucks permits.
As winter approaches, the DC Snow Team may be called upon to clear our city's streets. When this happens, our leaf collection trucks will stop collecting leaves and be outfitted with snow plows and salt spreaders. Once the weather improves, the trucks are cleaned and outfitted to resume leaf operations. This process can take several days. Delays can also be expected when leaves are wet or frozen, as such conditions hamper our equipment's ability to function properly. We appreciate residents' patience and understanding when Mother Nature interferes with leaf collections.
Residents may track the progress of DPW's leaf collection crews throughout the season and view before and after photos of our crews' work.
Do's & Don'ts of Leaf Season
Do

Place only piles of leaves in tree boxes or at the curb for collection.
Bring leaves, tree limbs, overgrowth from your alley, and other yard debris from your private landscaper to the Fort Totten Leaf Disposal Site at 4900 John McCormack Drive NE
Landscaping contractors may bring leaves to the Reno Road Leaf Disposal Site at Belt Rd & Donaldson PL NW
Feel free to bring holiday trees and greenery to the Fort Totten Leaf Disposal Site.
Report clogged storm drains by calling DC Water at (202) 612-3400.
Go to the App Store or to the Google Play Store to download "MyDPW" mobile app to get alerts about when collections will be made on your street and where we are collecting leaves on any given day.

Don't

Rake leaves into tree boxes or to the curb after your scheduled collection.
Place tree limbs, bricks, dirt, rocks, etc. into tree boxes or at the curb for collection.
Sweep leaves, litter, or other debris into gutter or catch basins (storm drains). Clogged catch basins can cause street flooding during heavy rains and further contribute to water pollution.
Place leaves in the street instead of at the curb or in the tree box as this is a fire hazard and can create traffic and parking issues.
If you visit Fort Totten Transfer Station, please be sure to have identification such as a driver's license with you to prove you are a District resident. If you don't have a DC driver's license, please have photo ID issued by another state plus a current utilities bill (within the last 30 days) or a copy of your residential lease or deed. The names on the photo ID and the utility bill or lease/deed must be the same.
Office Hours:
Monday to Friday 8:15 am - 4:45 pm
Service Location:
GIS Address:
2235 Shannon Place SE, Suite 3040