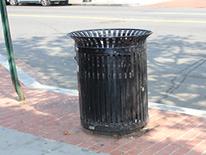 Litter cans are emptied at night, following a daily to three times per week schedule, based on how much trash they receive. Collections are noisy, which is why litter cans are not placed in residential neighborhoods. There are approximately 4,800 litter cans installed along the District's commercial streets. To report an overflowing litter can or to request a litter can, call 311.
---
Request the following service by calling 311 or using 311.dc.gov.
Litter Can - Collection
Report a public trash can that is full/overflowing and needs to be emptied.
Office Hours:
Monday to Friday 8:15 am - 4:45 pm
Service Location:
GIS Address:
2235 Shannon Place SE, Suite 3040