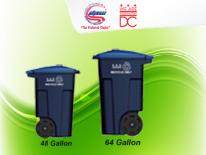 DPW will continue to replace lids, bars and wheels for free on Supercans and the 32-gallon trash and recycling carts. Supercans that are older than 10 years may not be able to be repaired because the manufacturer no longer makes those lids, wheels or lift bars.
If you are a new homeowner in the District of Columbia, you are eligible for free containers if:
You have been in your home less than 90 days
There are no containers at the home after moving in; or
Your container is damaged beyond repair.
If you have met the above criteria, please send a copy of your deed or settlement letter to swma.infor@dc.gov, or fax it to 202-645-3893. You can also mail a copy to;
Department of Public Works c/o Container Processing
1725 15th Street, NE
Washington, DC 20002
Otherwise, residents may purchase recycling containers from the Department of Public Works. To be eligible to purchase a recycling container, the buyer must be a District resident or own a home in the District that receives trash and recycling collection service from DPW. DPW serves single-family homes and buildings that consist of three residential units or less. Buildings with four or more residential units are served by commercial haulers and residents of those buildings must obtain recycling containers themselves or from their commercial hauler.
DPW will continue to replace and repair lids, bars and wheels on all recently distributed containers with serial numbers that start with a W# for trash and R# for recycling free of charge. Containers with serial numbers starting with a DC# cannot be repaired and will be removed from the residence without a replacement. Old containers will not be replaced free of charge. Repair requests may be made by calling 311/(202) 737-4404 or online at 311.dc.gov.
Residents can pay for their new containers by credit card, check or money order. You may click here to pay online with a credit card. Payments via check or money order should be made payable to the "DC Treasurer", and mailed to: Department of Public Works, Attention: SWCD – Container Check Processing, 1725 15th Street, NE, Washington, DC 20002. Residents requesting the senior discount must provide proof of age, such as a copy of the senior's driver's license, passport or non-driver identification issued by the DC Department of Motor Vehicles. When landlords make the request for their tenants who are senior citizens, proof of age of the tenant will be required.
Containers will be delivered within 7 business days after receiving payment. Once the container is delivered, residents should put their address (street name and number) on the side and top (a bright, garish paint will make the container stand out) and record the container's serial number to help deter theft and assist in identifying the container if it does go missing.
Once your old Supercan has been replaced, you must arrange for the old one to be collected by contacting 311 (311.dc.gov) and submitting a request for Container Removal service.
| Can Type | Cost to Seniors (60 years or older) | Cost to Non-Seniors |
| --- | --- | --- |
| 48-gallon Recycling Can – Used in twice-a-week recycling collection neighborhood | $25.00 | $50.00 |
| 64-gallon Recycling Can – Used in once a week recycling collection neighborhoods | $25.00 | $55.00 |
| 96-gallon Supercan – Used in once-a-week trash collection neighborhoods | $30.00 | $62.50 |
| Missing or irreparably damaged container after moving in (new residents only). | No Cost | No Cost |
Request the following services by calling 311 or using 311.dc.gov.
Residences with 4 units or more are considered commercial and recycling service must be provided by the landlord or HOA.
Office Hours:
Monday to Friday 8:15 am - 4:45 pm