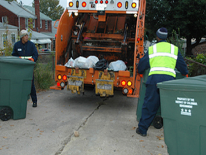 DPW collects up to five bags (per week) of yard waste from residences that receive DPW trash and recycling collection services. DPW's collection priority is trash; therefore, yard waste will be collected as space in the truck permits.
Items that should not be included
Tree limbs and stumps, dirt, stones, rocks, broken concrete, and broken pottery flower pots.
How You Can Help
Yard waste is bagged leaves, grass clippings, weeds, bulbs, twigs, pine cones and uprooted plants. Bundles of branches and limbs should be tied into four-foot lengths.
Once-a-week trash/recycling customers should put bagged and bundled yard waste where your trash is collected at the same time the trash container is placed.
Twice-a-week trash/recycling customers should put their yard waste out with the trash on their second collection day.
Office Hours:
Monday to Friday 8:15 am - 4:45 pm
Service Location:
GIS Address:
2235 Shannon Place SE, Suite 3040