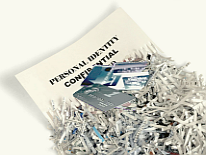 This service is offered on the first Saturday of the month in conjunction with the household hazardous waste and e-cycling event held at the Benning Road Transfer Station, between 7 am and 2 pm. Residents may bring up to five, medium-size boxes (approximately 20" x 14" x 14") of personal documents to be shredded. Only paper (staples, paper and binder clips on the paper are okay) and credit cards will be accepted.
The District is the first metropolitan Washington jurisdiction to provide free personal document shredding to its residents.
Note: No business or commercial material will be accepted.