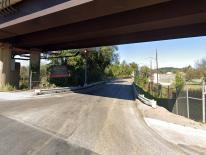 Beginning April 6, 2022
Residential operations including bulk, trash, and recycling drop-off will take place at the Benning Road Transfer Station. The Fort Totten Transfer Station will be closed for drop-offs until June 2023. Operations will be moved to the Benning Road Transfer Station located at 3200 Benning Road, NE starting April 6, 10 am – 2 pm, Wednesday – Friday.
Residents can still contact 311 to schedule a bulk pick-up. Click here for more information, and FAQs.
---
The Department of Public Works makes it easy for residents to dispose properly of solid waste, household hazardous waste, unwanted electronic equipment and provides personal document shredding at the Benning Road Transfer Station.
Hours of Operation for Residents' Use
(Businesses MUST use a commercial hauler.)
Solid Waste Disposal Drop-off
Wed – Fri: 10 am – 2 pm ONLY
Sat: 7 am – 2 pm*
*Saturdays are ONLY open for e-cycling, Household Hazardous waste disposal, the first Saturdays also offer free shredding.
*As of close of business today, September 24, 2021, no private haulers will be permitted to bring in bulk until further notice. We anticipate having an update for private haulers in two (2) weeks. Inbound hours for private haulers will end at 3:00 p.m., not 4:00 p.m., M-F.
*For updates on newly constructed Metropolitan Bike Trail addition, click here.
*Please be sure to have identification such as a driver's license with you to prove you are a District resident. If you don't have a DC driver's license, please have photo ID issued by another state plus a current utilities bill (within the last 30 days) or a copy of your residential lease or deed. The names on the photo ID and the utility bill or lease/deed must be the same.
Free Compost Available to Residents
The Department of Public Works will allow District residents to fill up to five 32-gallon bags (bring your own bags and shovel) of free compost Wednesday - Friday 10A - 2P and Saturday 7A - 2P, at the Benning Road Transfer Station, 3200 Benning Rd NE.
---
Other Special Waste Disposal Options
To find additional ways to dispose or recycle residential special waste, please visit our Zero Waste DC website by clicking here.