To safely dispose of batteries with lithium or batteries of greater than 9 volts, put clear packing, masking or electrical tape on the batteries' terminals or sandwich the batteries between two layers of tape (e.g. flat button cells). These batteries should be placed in a container separate from other batteries that don't require being taped.
Residents are asked to tape lithium-based batteries as well as batteries of greater than 9 volts so they don't cause a fire while being transported to a recycling center. Most commonly used batteries – A, AAA, C, D, 6-volt and 9-volt – don't need to be taped unless their packaging identifies them as lithium-based. Lithium-based batteries are most commonly found in cell phones, digital cameras and laptops. Also, hearing aids, watches and keyless remotes typically involve button cells, containing lithium. Similarly, cordless power tools use battery packs that are greater than 9 volts and/or lithium-based.
Batteries pose a special issue since they may contain harmful metals that can be dangerous to the environment and toxic to humans and animals.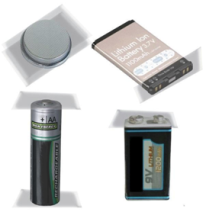 How You Can Help