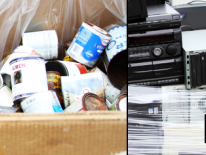 The safe disposal of hazardous household waste (HHW) helps to prevent the release of dangerous substances into the environment. HHW applies to any leftover or unused household products that are poisonous and/or can:
Burn or cause a fire.
Eat away materials.
Destroy living tissue on contact.
Cause an explosion or release poisonous fumes when exposed to air, water or other chemicals.
Damage or destroy cells and chromosomal material.
These items should not be put in trash or recycling containers for DPW to collect, nor should they be included with items for bulk trash collection. Employees can be harmed by these toxic items.
Beginning July 2023, DPW accepts residents' HHW materials at RFK Stadium Lot 3, 2400 E Capitol St NE every month, once on Thursday and Saturday, through March 2024. View the current schedule.